I kept saying, "When GV, finishes his build, I would start mine." He's pretty much done with his, minus mods. So, It's put up or shut up time, I guess.
My goofy ass started buying some things for this build a while back, but just never got around to building it. I had an idea before, but now it's kind of a, From Scratch, build. Just going to use what I have and build around that.
At the moment, my starting supplies are a Crate Stealth 50W chassis and enclosure, a Crate Stealth 50W, "but same as the 100W," Power Transformer, and Classic Tone  40-18037 Output transformer. I also have a 60's style, Marshall, TMB, Turret board, that is just gonna have to do. Things like tube sockets, resistors, caps, switches, wire, pots, and jacks, will benefit from not having to spend on what I already have. Hoping it becomes more of a Boutique style amp in the long run. Minus the chassis and enclosure. But, I'm going to see what I can do with those. May be able to fake it. 
It's looking like it's going to have to be a dual EL-84 amp, because of the OT specs. I could do a pair of EL-34's, but run them cool to around 22W, but I'm waiting for an opinion on that one. Cough, cough, GV, cough...
The whole point of this amp is to give me what my MTS will not. After I mod the Plexi module in it to a Clean style Module, I'll need my classic Marshall needs filled again. This may sound a bit strange, but I'm looking at doing a lower gain version of theJCM800 preamp. The whole little PI trick and all.
Definitely have to dive back in again and do my homework, but I'm pretty this can be done. I'd also like to have an FX loop, and a PPIMV. It may take a while, but should be a fun amp when done. We'll see.
Here are the starting resources. I have a few a other odds and ends, so I need to start on getting a parts list up, once my homework is done.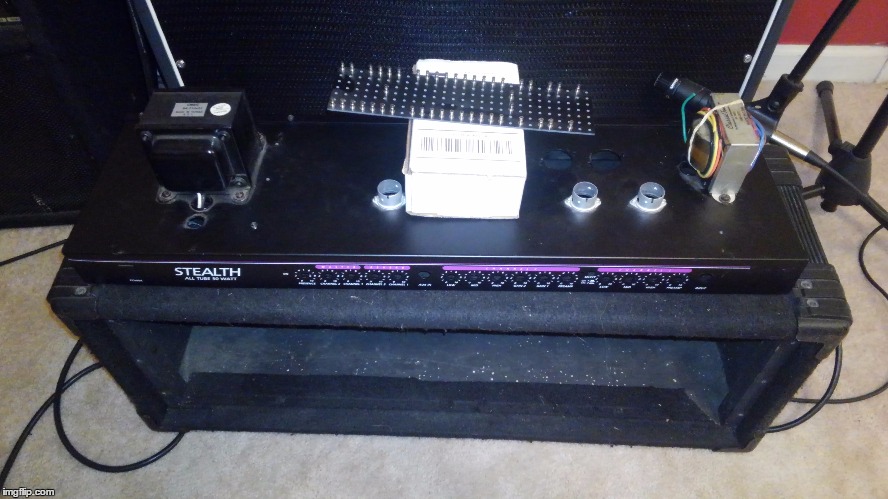 That felt has to go now!

0-18037  
0-18037