TREDYFFRIN, Pa. (CBS 3) A suspect is in police custody after the indecent assault of a handicapped man in a Paoli restroom in August.

Investigators in Chester County say they apprehended a suspect who allegedly raped a wheelchair-bound man in a supermarket bathroom.

Investigators said they arrested suspect Brian Parks Thursday evening at a Center City homeless shelter in connection to the August 8 incident. According to investigators, the 54-year-old Parks stands accused of raping a man who was confined to a wheelchair inside the bathroom of a Paoli ACME.

"We feel totally comfortable that this is the individual who is responsible for the heinous crime at the ACME," Sgt. Jack Bailey of the Tredyffrin Police Department explained.

Investigators said Parks allegedly locked his victim in a bathroom stall during the assault.

According to an arrest warrant, Parks "pulled his wheelchair backwards … forcefully remove the victim … and throw him to the floor."

While being led into a police cruiser with a sweatshirt over his head, Parks said to reporters: "Find yourself some real crime to deal with."
Investigators said Parks has an arrest record that spans through several states.

He is being at the Chester County Prison in lieu of $225,000 bail.
That is fucked up on so many levels
Gator Wrote:That is fucked up on so many levels
My question is: Is it really rape if the guy in the wheelchair couldn't feel it?
Securb Wrote:My question is: Is it really rape if the guy in the wheelchair couldn't feel it?
everyone knows when you are in the frozen meat section and you kiss the sausage that's gay code for rough sex in the bathroom.... where the fuck are you guys shopping?
So the place where I'm shopping is playing Van Halen and Sabbath while the place where you shop is playing Culture Club and George Michael? I see.
I shop in New Hampshire where the guy in the wheelchair most likly would have had a 9mm
walking on sunshine, yay yay yay

sorry, just went grocery shopping
If animals could talk, a few cows in Burlington County might ask state legislators to hurry up and outlaw bestiality.
During a bizarre hearing there yesterday, a Superior Court judge dismissed animal-cruelty charges against
a Moorestown police officer accused of sticking his penis into the mouths of five calves
in rural Southampton in 2006, claiming a grand jury couldn't infer whether the cows had been "tormented" or "puzzled" by the situation or even irritated that they'd been duped out of a meal.
"If the cow had the cognitive ability to form thought and speak, would it say, 'Where's the milk? I'm not getting any milk,' " Judge James J. Morley asked.....
.......Sexwith cows is the least of Melia's problems, though. He and former girlfriend, Heather Lewis, of Pemberton Township, are also accused of sexually assaulting three young girls over a five-year period, sometimes in Melia's Cottage Avenue home in Moorestown, where he was a patrolman, authorities said.....
......During the course of the investigation, authorities also discovered child pornography on Melia's home computer as well as videos of him with the cows.
(porno mooovies)
Morley also ruled yesterday that the prosecution must turn over copies of images and videos from the computer to the defense, including one video that allegedly shows one of the girls being "subjected to sexual activity."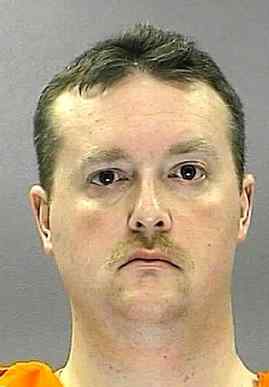 picture pops to story
he's got the cop porno stash going for him

or is that a milk mustache?