---
Skank Of The Week - Speng - 05-30-2012

http://www.huffingtonpost.com/2012/05/30/ashley-holton-masturbating-florida-highway_n_1557587.html?ncid=edlinkusaolp00000003

Drivers pulled illegal U-turns just to catch a glimpse of Ashley Holton, witnesses said.

The 35-year-old woman was arrested on May 26 for masturbating on Highway 484 in Ocala, Fla.

A witness told authorities that Holton had slowed traffic for more than 30 minutes before deputies arrived, the report said. The witness also said that honking car horns only seemed to encourage her.

When a Marion County Sheriff's Deputy approached her, Holton pulled up her shirt and bra, "exposing her breasts and bra," according to the report.

Holton was arrested and taken to the Marion County Jail. When an officer attempted to put pants on her, the report said Holton kicked and bit her. Holton described her chomping as "a love tap," the report stated.

Holton's alleged antics didn't stop once she had entered the jail, where she "continued to resist the officers by spreading her legs, exposing her vagina and telling the officers to kiss her there and refusing verbal commands to cooperate," according to the report.

Holton, who the report said may have been under the influence of alcohol, was charged with exposure of sexual organs, battery on a law enforcement officer, resisting an officer and disorderly conduct.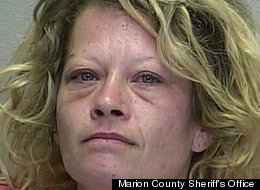 ---
Skank Of The Week - Securb - 08-13-2012

Police are looking into an incident where a woman allegedly hit her mother in the nose with a container of baby powder during an argument.

Fort Walton Beach Police became involved in the case on July 28 when they were summoned to a Marilyn Drive residence.

A woman said she'd been scolding her daughter about her "irresponsible behavior" and didn't approve her becoming involved in short-term relationships and leaving the house for several days without indicating where she was.

The daughter became angry and told her mother, "I'm not a whore." Then, she whacked her on the bridge of the nose with a plastic bottle of baby powder.

The daughter admitted to hitting her mom with baby powder.

She was charged with battery. Her court date is Aug. 14.


---
Skank Of The Week - Securb - 08-26-2012


---
Skank Of The Week - Securb - 11-27-2012


---
Skank Of The Week - Securb - 12-15-2012


---
Skank Of The Week - Securb - 01-27-2013

WESTPORT, Conn., Jan. 27 (UPI) -- A 71-year-old woman was arrested in Connecticut for alleged prostitution, police said.

Sygun Liebhart, of Westport, was arrested in a hotel room at the Homewood Suites, The Hartford (Conn.) Courant reported Friday.

Police said, Liebhart, who calls herself "Lola," placed an advertisement in the "escort section" of the website Backpage.com.

After making a deal to perform sexual acts at the hotel with an undercover police officer, Liebhart was arrested, police said.


---
Skank Of The Week - Securb - 02-07-2013


---
Skank Of The Week - Securb - 03-06-2013

ALFRED, Maine — An insurance agent was convicted today of promoting a prostitution business centered at a Zumba studio in a small coastal town.

Mark Strong Sr. was a full partner who controlled, supervised and managed the prostitution business being run by the fitness instructor, prosecutors said.

Strong, 57, acknowledged having an affair with Alexis Wright and helping her open the studio but contended he didn't profit from her activities. His attorneys said he was a smitten lover who wanted to help the single mother.

Wright is awaiting trial and has pleaded not guilty.

Jurors deliberated for 4 1/2 hours before announcing that they had found Strong guilty of all 13 counts — 12 of promoting prostitution and one of conspiracy. He showed no emotion as the verdict was announced. His wife leaned into his son and cried.

The scandal in Kennebunk, a seaside village known more for its sea captains' homes and beaches than crime, attracted international attention last fall after it was reported that Wright's ledgers indicated she had more than 150 clients and made $150,000 over 18 months.


---
Skank Of The Week - Securb - 08-31-2013

MediaTakeOut.com learned that a Polish woman named Ania Lisewska, 21, is allegedly attempting to travel to every city in the world so she can have sex with at least 100,000 men for 20 minutes each.

"I want men from Poland, Europe and all around the world. I love sex, fun and men," she said, according to the Austrian Times. "In Poland the subject of se# is still taboo and anyone who wants to fulfill their sexual fantasies is considered a deviant, a chick or mentally ill."

The supposed sex marathon allegedly began last month in Warsaw, according to her Facebook page, and she hopes to have her way across Poland before moving to other countries.

So far, she's had sex with 284 men, according to Fakt.pl and didn't let the fact she has a serious boyfriend stop her


---
Skank Of The Week - Ransack - 08-31-2013

Who wants to be lucky number 100000?


---