---
Moron of the week - Speng - 10-27-2010



Man tattoos face after radio station joke



http://abclocal.go.com/wls/story?section=news/bizarre&id=7693065

Everyone has regrets in life. But usually those mistakes are not as obvious to everyone else.

David Jonathan Winkelman got the call letters and logo for radio station KORB tattooed on his forehead.

The 48-year-old heard the station jokingly offer a six-figure payout for any listeners who dared to do it.

When the station explained that it was just a stunt, Winkelman sued, claiming the station was trying to permanently mark listeners so that they could "be publicly scorned and ridiculed for their greed and lack of common good sense."

The mug shot above is the result of Winkelman's arrest last week in Davenport, Iowa. He's charged with failing to appear in court for operating a motor vehicle without the owner's consent.

Winkleman's stepson got the tattoo as well in the same place. But he's had some good luck -- no mug shot.

It gets worse. The radio station has since changed its call letters and switched from hard rock to easy listening.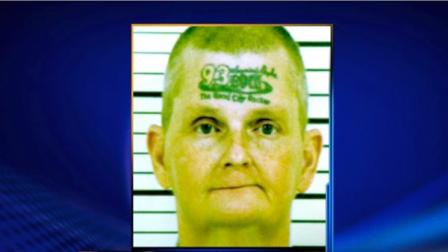 ---
Moron of the week - Securb - 10-28-2010


Speng Wrote:

He should have gone with TMRZoon instead - at least we would have given him a Nickleback Live In Sturgis DVD


---
Moron of the week - Securb - 10-28-2010

Lincoln Police say Trevor Case has been charged with false imprisonment, domestic assault and making terroristic threats. Investigators say the 22 year old woman told officers that Case confronted her Saturday morning when she got home from work and accused her of being with someone else.

The woman told police Case bound her wrists, tied her to a couch and stuffed socks in her mouth. She said he then put a shirt over her head and poured water over it, creating the sensation of drowning.

Police say the woman was able to twist free. The report says her wrists were bruised and swollen.


---
Moron of the week - Speng - 10-29-2010

http://news.cincinnati.com/article/20101026/NEWS010702/10270330/Prosecutor-Teenager-picked-wrong-transvestite-prostitute-to-rob

Sixteen-year-old Rufus Bowman was looking for an easy victim, but he picked the wrong one during a July 13 incident.

Bowman was in the 200 block of West McMicken Avenue in Over-the-Rhine when, Assistant Hamilton County Prosecutor Ryan Nelson said, he approached Joshua Bumpus.

"Mr. Bumpus is a transvestite prostitute," Nelson said. "He goes 6-(foot)-3, 280 (pounds) and was wearing a pink halter top and pumps."

Actually, jail records list Bumpus as 6-foot-1, 290 pounds.

"(Bowman) approached Mr. Bumpus and, according to Mr. Bumpus, was trying to retain his services," Nelson said.

The two men went into a nearby alley to transact business, Nelson said, when Bowman pulled a gun.

The two men fought. The 5-foot-7, 230-pound Bowman fired his gun. The bullet hit Bumpus in the arm, went through and lodged near his ribs.

Even though he was shot, Bumpus continued fighting - and won.

"He got the gun away from (Bowman), he grabbed (Bowman) by the hair and beat him down. He beat the (daylights) out of him," Nelson said.

That's about when several of Bumpus' friends, also dressed as women, flagged down Cincinnati Police Officer Dave Kennedy. Other Bumpus friends helped Bumpus beat Bowman.

"The cops showed up during the beat down," Nelson said. "The cops said it was one of their more memorable arrests of their lives."

Bowman's case was deemed serious enough to be heard in adult court. He initially was charged with felonious assault and having a gun while under a criminal disability because he was convicted in February 2009 for possession of drugs, a crime that legally barred him from carrying a gun.

In a Tuesday plea deal, Bowman pleaded guilty to felonious assault. Hamilton County Common Pleas Court Judge Robert Ruehlman sent Bowman to prison for three years.

"(Bowman) picked the wrong prostitute to rob," Nelson said.


---
Moron of the week - Speng - 11-10-2010

http://boston.barstoolsports.com/random-thoughts/fat-high-and-having-a-mouse-up-your-ass-is-no-way-to-go-through-life-son/

A burglary call for Oconee County sheriff's deputies turned bizarre Monday morning when their suspect was found naked and apparently drugged, an incident report shows. Authorities responded to Bernwood Circle near the town of Seneca late Monday morning after a resident complained of a burglar. When deputies arrived, they found Noah Smith, 31, lying face down and naked inside the doorway of the victim's home, the report stated.

When the deputy tried to make contact with Smith, he slapped the deputy. In return, the deputy deployed his taser, which had no effect on Smith… Then, according to the report, Smith was pepper sprayed. Undeterred, Smith continued to kick at the officers and otherwise evade capture. He was struck with a police baton several times, and Smith attempted to bite the deputy… the Seneca Police Department opined that Smith might have been high on mushrooms, and identified equipment that could be used to get high in the victim's home.

During a medical exam at a nearby hospital, medical personnel found a mouse tail hanging from Smith's rectum. An X-ray revealed a mouse lodged inside Smith. He told emergency room personnel that he could not remember what had happened to him.


---
Moron of the week - Speng - 11-10-2010

http://www.upi.com/Odd_News/2010/11/08/Police-Burglar-left-MySpace-open/UPI-39121289246995/

SUGARLOAF KEY, Fla., Nov. 8 (UPI) -- Authorities in Florida said they arrested a teenage burglary suspect who allegedly left himself logged into MySpace at the scene of the crime.

The Monroe County Sheriff's Office said a caretaker for a house on Sugarloaf Key called 911 Sunday evening and reported seeing someone sitting on a couch inside the house, the South Florida Sun-Sentinel reported Monday.

Deputies said they arrived to find the house unoccupied, but they discovered an open back window, empty food containers and marijuana left on a coffee table.

The sheriff's office said deputies found a computer logged into the MySpace account of Robert Rupp, 18, of Big Coppitt Key.

Rupp was spotted walking in the neighborhood and he allegedly told deputies he went inside the house because he was cold outside.

Rupp was charged with burglary, possession of burglary tools and theft.


---
Moron of the week - Securb - 11-11-2010



A

Chelsea (Boston) man beat his wife over a missing ingredient for the lasagna he was making during "Monday Night Football" hours before she was found dead in their driveway, authorities said.

Frederick Wilkes, 54, lashed out at Theresa Kenna Wilkes, 50, after he discovered beans inside a ricotta cheese container in their fridge, said Jake Wark, spokesman for the Suffolk district attorney's office.
"He threw the container of beans at her and they became involved in an altercation," Wark said...

....
The fight began around 8 p.m. when the couple and Fred Wilkes' buddy, Mario Donnarumma, went to the kitchen to prepare dinner before the Steelers-Bengals game, according to court papers. All three had been drinking for hours, and when Wilkes found the leftover beans, the argument began, Donnarumma told cops.

Theresa Wilkes hit her husband several times, and he hit her "three times on the side of her head with either an open or closed fist," said Donnarumma, a homeless man who had been staying with the couple.



Donnarumma said he offered to go to the store to purchase ricotta cheese but was unsuccessful, and returned only with beer and vodka.

Wilkes became upset again, and his wife, who was sitting on a couch, suddenly found herself covered in beans, Donnarumma said

The couple fought again, prompting Wilkes to say, "You're done ... get out," while grabbing his wife and dragging her out of the apartment, Donnarumma told police. He also pushed the bean-splattered couch outside.
Sometime later, Wilkes "engaged in a loud argument" with his wife outside, court papers indicate, before re-entering the apartment and locking the door.
Donnarumma told cops Wilkes opened the door once more to toss his wife's purse outside, adding he did not see Wilkes leave the apartment again until both were woken by police the next morning.

The lifeless body of Theresa Wilkes was found barefoot in her driveway around 6 a.m. Tuesday, cops said, adding she appeared to have scrape marks and blood on her face.

Wilkes, who initially denied fighting with his wife, eventually "admitted to pouring beans over Theresa, grabbing her by the shirt and forcibly throwing her out of the apartment," police said.

A cause of death has yet to be determined pending autopsy results.
Messages left for Wilkes' attorney, Aviva Jeruchim, were not


---
Moron of the week - Hooch - 11-11-2010

Wilkes? Nope, thats not an Italian enough name to warrant killing someone over ricotta. He probably pronounces it ri-cot-a instead of rig-got.


---
Moron of the week - Securb - 11-11-2010

BOSTON — If a box looks like it contains a laptop computer and weighs as much as a laptop computer, does it contain one?

A 38-year-old woman thought it did. She handed $100 to a man, and he gave her the box. She opened it when she got home, and inside found a brick, held in place by newspapers.

The woman was one of at least three people to whom Dwayne Nelson, 38, who said he was homeless, tried selling a brick in a box, police said. Two others didn't fall for it.

A surveillance video shows Nelson handing the woman a box that supposedly contained a computer in exchange for what later turned out to be $100.

The box appeared to contain a netbook laptop and seemed to be factory sealed, police said.

Nelson shows up again on surveillance video at the same supermarket April 10 and looks like he is trying to sell another woman a box containing what he said was a computer, police said. The woman wasn't buying.
The store security staff called police, and officers found Nelson at Granite Street and Burgin Parkway.

He was carrying a bag from Best Buy. Inside, there was what seemed to be a computer box wrapped in plastic with pictures from a circular taped to it. The whole thing was wrapped in clear plastic, police said.
Inside of the box, officers found chunks of asphalt and newspapers, police said.

Nelson was arrested and charged with larceny of less than $250 and attempting to commit a crime in connection with the April 3 incident. He pleaded innocent at his arraignment in Quincy District Court and was told to return to court Nov. 23.

But police said he tried the same scam again Monday on Hancock Street in downtown Quincy and was back in court on Tuesday.

A caller told police shortly before 1 p.m. that a man wearing sunglasses and a backpack was trying to sell a laptop computer in a box for $100. Officers found Nelson close by carrying what turned out to be a brick in a box.


He was arrested on drug charges after heroin and Suboxone were found on him, police said.

Nelson was held without bail after his court arraignment Tuesday on drug-possession charges. He was to undergo a substance abuse evaluation and return to court today for a status hearing.


---
Moron of the week - Speng - 11-18-2010



Man enraged by Dancing with the Stars shoots TV



http://www.theglobeandmail.com/news/world/americas/man-enraged-by-palin-dance-shoots-television-turns-gun-at-wife-police/article1803251/

A rural Wisconsin man blasted his television set with a shotgun after watching Bristol Palin's "Dancing with the Stars" routine Monday night, saying he was fed up with politics and Ms. Palin wasn't a very good dancer, according to court documents.

Steven Cowan, 67, of the town of Vermont, about 15 miles west of Madison, then pointed the gun at his wife, 66-year-old Janice Cowan, who escaped and called police, authorities said. A SWAT team surrounded the couple's farmhouse, and officers were able to talk Mr. Cowan out Tuesday morning after an all-night standoff.

Mr. Cowan had been drinking before he sat down to watch "Dancing with the Stars" and suffers from bipolar disorder, his wife told officers. He was charged Tuesday with second-degree reckless endangerment, and could be sentenced to up to 10 years in prison if convicted.

Bail was set at $1,500 for Cowan at his initial court appearance Wednesday in Madison. State Public Defender Jonas Bednarek, who represented Cowan, declined to comment. Mr. Cowan's preliminary hearing was set for Dec. 6.

Dane County Sheriff's Department spokeswoman Elise Schaffer said Mr. Cowan works as a landlord, but that she didn't know where he owned property. He has a clean criminal record, she said.

"It's kind of sad, actually," Ms. Schaffer said.

Janice Cowan told police her husband came home around 6:30 p.m. Monday after drinking at a bar, but that she didn't know if he was drunk, a sheriff's detective wrote in a criminal complaint.

She said her husband drank a bottle of beer during dinner and they settled down to watch "Dancing with the Stars."

When Ms. Palin, the daughter of former vice presidential candidate-turned-GOP celebrity Sarah Palin, began her routine, Mr. Cowan jumped up and began swearing, saying something like "The (expletive) politics." His wife said he was upset that a political figure's daughter was dancing on TV even though he felt she didn't have talent.

She told officers her husband left the living room and reappeared 20 minutes later with his shotgun, "raging" with his face bright red, and blasted the TV.

"He scared the bejebees out of me," Janice Cowan told police.

She said her husband pointed the gun at her and told her to go get his pistols. She said he threatened to kill himself if she returned with anyone else.

She left the home and called police from a nearby lawyer's office, according to the complaint.

The criminal complaint said Steven Cowan's daughter recently took away his handguns for safekeeping. It did not elaborate.

Mr. Cowan was ordered Wednesday by Dane County Circuit Court Commissioner Todd Meurer not to have any firearms in his residence, consume alcohol or contact his wife in person should he post bail.

Janice Cowan told officers that about 15 years ago her husband had threatened her with a machete when he couldn't find some ammunition and has threatened to shoot one of their cows.

She added he was under stress because of financial reasons, saying a doctor helping him with his mental health problems had suggested he temporarily turn over control of his rental properties to the family's attorney. Calls Wednesday morning to a number listed as the Cowans' could not be connected.

The Internet has been abuzz in recent days about how Bristol Palin, who has consistently landed at the bottom of the judges' leaderboard, has been able to remain on the ABC show. Some have suggested that voters — particularly supporters of her mother — have been voting in blocs and manipulating the system.

Both Palins have denied any organized vote-getting tactics. Bristol Palin, 20, says voters support her despite lackluster performances because she started the show with no dancing experience


---