12-21-2017, 02:08 PM (This post was last modified: 12-23-2017, 12:41 AM by karpathion.)
I just picked these up from my uncle, yesterday. He's had them since I was a kid, and I personally have a few hundred hours behind them. It's the kit I learned on, so they have a bit of sentimental value to me. I want them back playing.
From all of my research today, they are a 1979 Pearl Vari-Pitch set. The only piece missing is the snare, and as far as I can tell, they were made in Tennessee, not Japan. It's kind of a unique set on its own, as it came with a 24" kick, and not the normal 22".
They have been sitting in a not so ideal spot for many years now, and it shows. They are in rough shape right now.
Does anyone here know anything about rufurbing a set of drums, or any place I can get some good info on it? I can build a guitar from scratch, but never touched a drum before. I don't even know where to start.
I'm pretty sure just taking them apart and cleaning them is as good of a start as any, I just want to make sure I'm not going to ruin them if I get them apart and can't get them back together again.
This is them, and I'm cleaning up the 8" right now. I stuck them in the out building last night, because of the smell. Any help would be greatly appreciated fella's.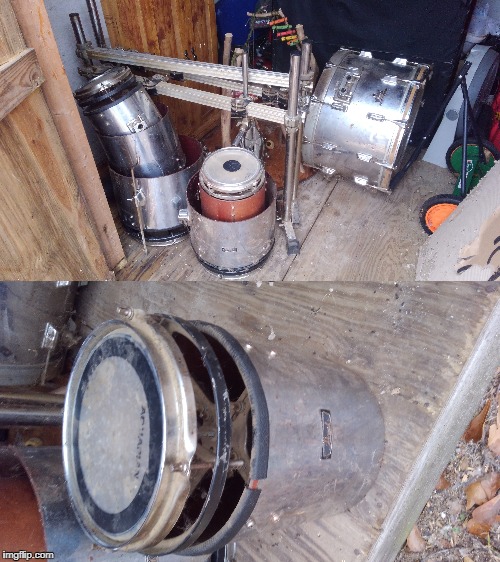 I hear Mexico is nice this time of year.