03-26-2020, 04:48 PM (This post was last modified: 03-29-2020, 05:36 PM by karpathion.)
I've had my 8" Henckels for over 10 years, and it's been sharpened so many times that it just didn't have much left in it. So, I figured it was time for some new battle gear. After almost pulling the trigger on an 8" Shun, this little Regalia company popped on a list I was looking at, and I just couldn't get it out of my head. 
After comparing it to a few others, and reading about 7" Santokus in general, I went ahead and ordered it. It's a new company apparently, and they want to compete with Shun and Henckels. They also give a lifetime warranty and sharpening. I think it's 3 or 4 sharpenings a year. I'll have to check that to be sure. 
They claim that it's a 67 layer AUS-10 Damascus, Honbazuke 3 step edge, and G-10 handle. So far, I can't say they are exaggerating. This bitch is legit! 
The 7" took me just a moment to adjust to, and I think I actually gained a little speed. The holy trinity don't stand a snowball's chance in hell against this thing. I'm very impressed, and already want the paring and vegetable knife from the set. I'm thinking I'll move over to all Japanese style blades now. 
I don't work for this company, have any affiliation with them, and I paid for my shit like everyone else. Just thought I'd pass a good deal from a new up and coming knives maker. 
Can't get a picture to pick up the Damascus pattern to well, but it looks much better than in the pictures. I'll try to break out my camera later and a get a few real pics of it.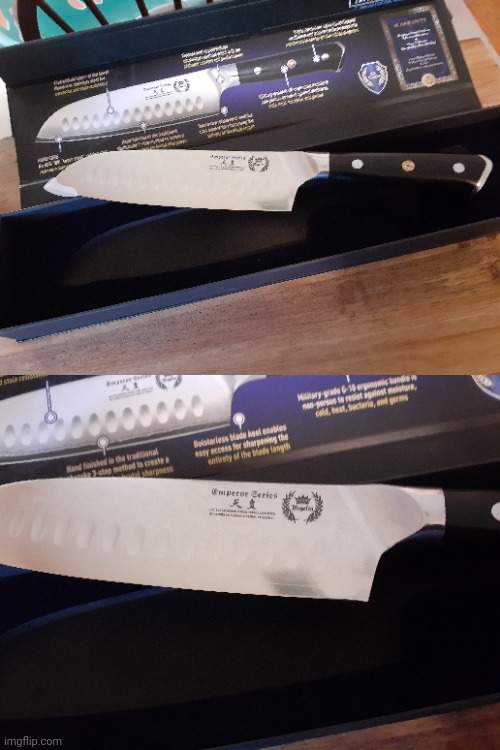 I hear Mexico is nice this time of year.