I had to sit with my Paw-n'-Law, for the day on Saturday, and boredom eats me alive over there. Most of the time I'll cut grass, spar some roosters, or fix stuff around the house, but I was on a mission Saturday.
The night before, I had started looking around for a project that could be done in a day, and stumbled on to Cigar Box guitars somehow. Then, as you start reading, you get into the history of them, and they have a very colorful history. You'll also learn that instruments like this where made out of necessity, and with whatever parts and scrap you could make work. 
I had initially gathered up a bunch of guitar part, and planned on making it really modern and nice, but I'm a sucker for history.  The only guitar stuff I ended up using was the tuners, and the D, B, and high E string from a set of 10's.
Found a stick of 1"x 2" red oak in Ken's shed that was just over 36" long. He has a ton of cigar boxes, and everything else was done with whatever I could find in the shed, and actual hand tools. Well, except the head cut. I used an old ass 1970's scroll saw for that. Would have been faster with a hand saw.
The bridge and nut are SS bolts with the heads cut off, the tail piece is a small cabinet hinge, the pieces for the string tension on both ends came from the mounts for an overhead fan or light.
I still have to move the bridge up for scale length to be right, then make the fret markers, but it plays and sounds great for a little slide axe. Sounds just like the old recorded slide tones from way back. So much so, I think I'm going to use it on my next recording project.
Fun little toy to have no money in, and only takes a couple of hours to build. Perfect for a boring Saturday project.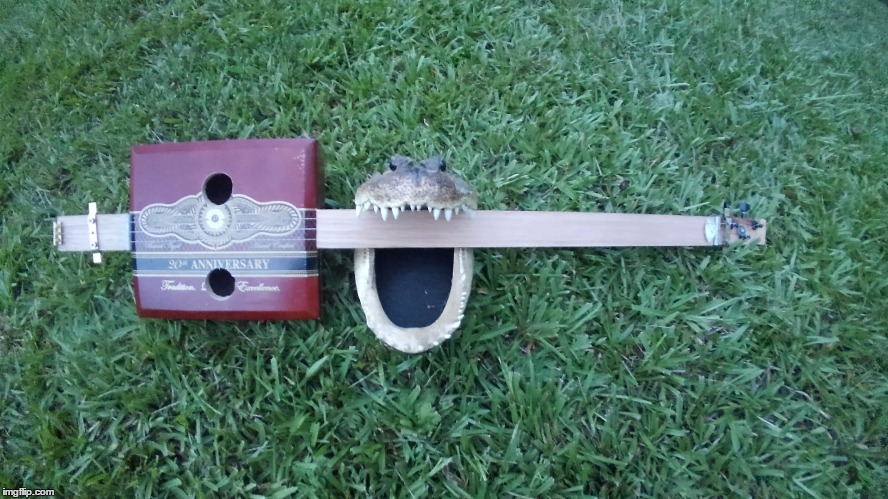 I hear Mexico is nice this time of year.