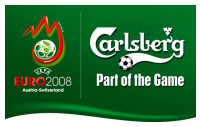 Carlsberg Canada Inc. Announces Arrival of Imported Carlsberg Beer from Denmark, Just in Time for the UEFA EURO 2008 Soccer Championship
TORONTO, ONTARIO–(Marketwire – April 30, 2008) – After four years of preparation, the most significant launch in Carlsberg Canada Inc. history is taking place. Beginning this month, imported Carlsberg and Carlsberg LITE will be available to beer consumers across Canada, a significant change from the domestically brewed product which has been in Canada for the past 40 years. The timing coincides with one of the largest sporting events in the world – the UEFA EURO 2008 Soccer Championships – which Carlsberg has sponsored since 1988. In order to reward existing customers and to excite the new ones, Carlsberg is running a national program giving away a trip of a life time to the UEFA EURO 2008 final.
Since January 2004 Moosehead Breweries of Saint John, New Brunswick and McAuslan Brewing Inc. of Montreal, Quebec have been producing Carlsberg and Carlsberg Light locally, in the domestic brown bottle. Prior to that Carlsberg was produced under Labatt Breweries of Canada. Now, Canadian beer enthusiasts can purchase the international green import bottle along with other formats, from their local licensees and retailers. The new bottle enhances the premium quality of the brand and provides the consumer with an even greater drinking experience.
Marketing Director, Carlsberg Canada Inc., Preben Ganzhorn says that the timing couldn't be more perfect. "We have waited a long time to be able to introduce Carlsberg as an import and to do it this spring, in time for UEFA EURO 2008, will allow us to utilize this international property as the creative platform to enter into the growing import beer segment."
Carlsberg Canada Inc. will support the launch of the imported products in 2008 with a comprehensive marketing program that includes a multi-media advertising plan, consumer promotions, in-store sampling and local sponsorships with Toronto FC and Montreal Impact. The most extensive activity planned is the Golden Ticket promotion whereby consumers can obtain a golden ticket inside specially marked packages of Carlsberg, giving them the opportunity to win a trip to the European Championships final in Austria.
ABOUT CARLSBERG – Carlsberg was founded in 1847 by the visionary brewer J.C. Jacobsen. Jacobsen demanded quality above all else and his innovations in the art of making beer laid the cornerstone of the modern brewing industry. Greatest of all innovations was the groundbreaking method for propagating pure yeast. The yeast, aptly named "Saccharomyces Carlsbergensis", was so extraordinary that Carlsberg gave it away to other brewers for free. To this day, whenever and wherever you enjoy a lager, there's probably a little Carlsberg in it.
Today Carlsberg is the 5th largest brewery in world, employing more than 30.000 people worldwide. Carlsberg Beer is the flagship in the Carlsberg Group portfolio which consists of more than 150 brands. Available in more than 140 markets across the globe Carlsberg is a truly international pilsner of exceptional taste and quality.