In a world where guitarists want to hear themselves without hauling a ton of gear…  Bonus points if you read that in the 'movie trailer' voice.
Mojotone is known for making solid cabs out of their own woodshop in North Carolina.  A few of the features that I find appealing would include thick Baltic birch ply and healthy 1/4″ finger joints.  Some of the pros using Mojotone cabs include Joe Bonamassa, Lenny Kravitz, Rush, The Who, ZZ Top, and more.  I have to admit that I was very interested when Mojotone asked me to check out one of their Slammins cabs.
Also offered in a 1×12 configuration, we are talking about the 2×12 here today.  It comes stock with an open back and a single 1/4″ plug.  You can order it as a closed-back or with a Stereo/Mono jack plate.  Out of the box, I started out with the Mojotone BV-25M 16Ω speakers.  I also tried some Mojotone BV-30V 8Ω speakers to help round out what the Slammins can deliver.
The open back on the Slammins cab allows the sound to breathe in the way you want if you're more used to the space inside a 4×12.  However, I did find myself pondering the scope of mayhem available with the closed-back option and an aggressive dirty amp tone.  Access to the back is as simple as a screwdriver.  Or a cordless screwdriver, if you're as lazy as I am.  Ha!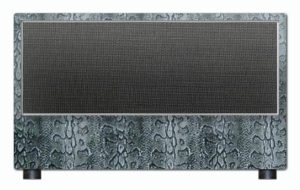 A classic black tolex adorned the cab.  And like pretty much every Mojotone cab, the Slammins cab is available in dozens of colors and styles of tolex.  Or you can choose from snakeskin or camo styles of tolex to complete the vibe of your Ted Nugent cover band.
Your Slammins cab can be customized with different sizes and colors of baffle piping, as well as a range of grill cloth choices.  Speaking of the front grill, it can be easily removed if you'd like more convenient choices of mic placement.  Or maybe you just need to clean up a bit of the beer you spilled during that last set.  LOL!
One of the big draws to the Slammins cab is the angled front.  This is groovy for a few obvious reasons.  First, you can use it for a monitor.  I did this very thing way back in the day during band rehearsals and I wanted a little extra to hear myself over the cacophony of everything else happening.
The more obvious use would be as an option to better hear your backline without taking off the heads of the front row.  Well, you ask, why not a 4×12 slant?  Good question!  The 4×12 is going to be heavier and will still be directing 2 speakers straight out.  It also eliminates the need for an angled stand for your combo amp as another means to reduce space taken in the bassist's mom's van.  And when it comes to making your bandmates feel important, the Slammins cab has 2 recessed handles.  What better way to give your drummer the most important job he'll have all night!  Haha!
Here's a video of a Slammins 2×12 in action:
Slammins 2×12 Dimensions
Bottom Depth: 15-3/4″
Top Depth: 9-5/8″
Width: 28″
Height: 16″
Available Speaker Cuts: 1×12, 2×12, 2×10, 2×8
Give them a look.  More and more players are going to these smaller cabs for their home studios or for pairing with their Fractal Axe-Fx units in live settings.  Mojotone can also incorporate an amp head into the fabrication process so that you end up with an awesome combo.
Mojotone Website | Facebook | Twitter | YouTube | Instagram
Darth Phineas is a long time music industry insider who provides his readers with unbiased reviews on musical instrument and guitar gear. You can read more of his reviews and check out industry news on his Facebook community Darth Phineas, Twitter or his website is darthphineas.com