The J90 is a humbucker sized P90 style pickup from Poland-based Hathor Custom Shop.  When I first dealt with Dariusz, I could tell we both spoke the same pickup language.  It's easy to get lost over many of the drool-worthy pickup offerings from Hathor.
Out of the box, the J90 is a good-looking and well-made pickup.  The raw nickel cover is very cool and I appreciate the attention to detail.  A nice feature would be the rounded mounting feet, allowing the J90 to better fit in to some of those pesky hard-to-fit direct mount bodies out there.
For this evaluation, we are looking at the bridge model.  I loaded up the J90 into a double-hum test guitar with a vintage-hot output humbucker in the neck.  This J90 bridge came with a 3-wire lead allowing options for being paired with a single coil or a humbucker.
The Alnico 2 based J90 is a nicely well-balanced pickup.  Being sensitive to right-hand technique, this pickup delivers a lot of versatility.  Highs can be snappy and they can be sizzling.  Mids tread a line that covers some growl and some snarl.  The low end has punch and it has depth, while avoiding mud.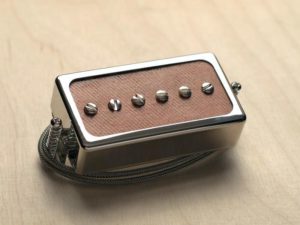 There's a nice musical quality to the J90 that makes me want to keep playing.  It's great for rhythm playing, and it also steps up to the table for lead work.
Throwing down with some chord playing and it's all there.  The J90 has clarity and presence and balance and precision.  It is just at home with pedal root 80s riffing as with more detailed jazz style fingerings.  The character of the voicing allows the pickup to have the girth to hit you in the chest and the detail to come through the mix.  And that's also why the J90 is good at lead playing.  The harmonically rich nature is like icing on the cake.
Considering how it pairs up, the J90 bridge was mated with an Alnico 2 neck hubucker.  Transitions were smooth with no indication of the J90 being overpowered by a humbucker.  Middle position tones with the humbucker are totally as expected and good options for blues rock options.
How about some specs:
Series – 9.131 K
Inductance – 6.070 H
Magnet – Alnico 2
The staff at Hathor are easy to deal with and have a real passion for pickups.  For coming almost halfway around the globe, the shipment was here in about 10 days with tracking the followed the entire trek.  I am without a doubt looking forward to trying more Hathor pickup.
For reference, this J90 bridge pickup evaluation was conducted with a Fractal Axe-Fx II XL+ featuring Celestion Impluse Responses.  Real cabs used are a Peavey 6505 cab and Marshall 1960B cabs loaded with Celestion A-Type, V-Type, G12-65s, Peavey Sheffields, and Mojotone BV-25Ms.
Hathor Pickups Website | Facebook
Darth Phineas is a long time music industry insider who provides his readers with unbiased reviews on musical instrument and guitar gear. You can read more of his reviews and check out industry news on his Facebook community Darth Phineas, Twitter or his website is darthphineas.com