Celestion says the V-Type "produces a heady, exciting modern vintage sound that just makes you want to keep on playing."  You saw a brief mention of the V-Type in my earlier evaluation of the Celestion A-Type 50 Watt Speaker.  At one point, the V-Type and the A-Type were in a stereo config X pattern in a 4×12.  Two V-Type speakers together on one channel, and the pair of A-Type on another.  The V-Type were also in a 2×12 open back cab.
Right away, the V-Type stood my up and hit me in the chest with a distinctive authority.  It's a nice full-sounding speaker with a little more lower-mid girth than the A-Type, for example.  A little more roar, if you will.  Could be it has to do with a bit of a dip in the mids around 1.5 kHz or the slightly elevated headroom.
The V-Type is in the same $99 price range as the A-Type, making them attractive to guitarists wanting to branch out a little.  Thankfully, there's a much sound packed in here as a higher-priced selection.  And in 8Ω and 16Ω options.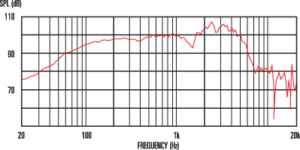 During the time that the V-Type speakers were being evaluated, several guitars and even more pickups were used for testing.  Double hum, hum-single-single, a P-90, and even all singles.  Voiced from classic and vintage to modern and progressive tones.  For a little more fun, I'd also run the cab along with a cab loaded with G12-65s – which share a similar dip around 1.5kHz.
I really like how the V-Type delivers a firmly percussive yet slightly primal grunt toward the lower end when hitting the big chords on a dirty amp setting.  The highs are deliberate and have some open airy cut, but they aren't shrill or brittle while doing so.
For the inevitable comparison to the A-Type, it's as if the V-Type has a shift toward the lower mids and the A-Type slants toward the upper mids.  Along with the A-Type's slightly stringer focus in the highs, both speakers make for a really nice match in a 2×12 or a 4×12.  When together like that, the combination seems to present a stronger sonic footprint in the room.  The pairing also yields a smidge more harmonic content.
Watch Pete Thorn demonstrate the V-Type's range:
How about some specs:
V-Type Specs
Speaker Size:  12″
Voice Coil:  1.75″
Magnet:  31 oz Ceramic
Power Handling:  70 W
Resonance:  75 Hz
Sensitivity:  98 dB
For reference, this evaluation was conducted with a Fractal Audio Axe-Fx II XL+ through a Carvin DCM200Lpower amp.  Cabs are a Peavey 6505 4×12 closed-back and a Mojotone Slammins 2×12 open-back.
Celestion Website | Facebook | Twitter | YouTube
Darth Phineas is a long time music industry insider who provides his readers with unbiased reviews on musical instrument and guitar gear. You can read more of his reviews and check out industry news on his Facebook community Darth Phineas, Twitter or his website is darthphineas.com